Flow 2020
Secure Media Collaboration In the Cloud, On-Premise and Anywhere Between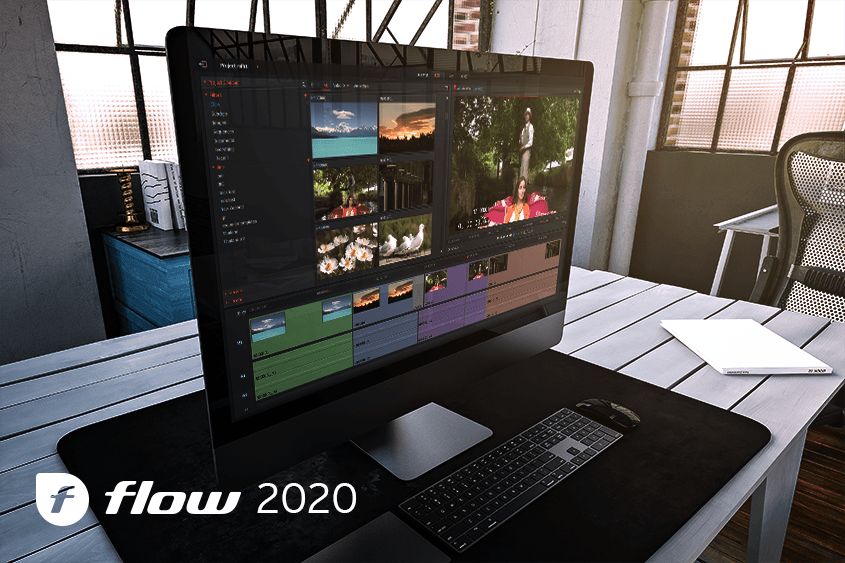 Media Management solutions were born from the needs of production facilities faced with ever-increasing quantities of digital content, collected from a multitude of sources, in a myriad of formats. Without tools to organise, material would remain unstructured, unmanaged and unidentifiable and production workflows would suffer the load.
Flow was initially developed to provide EditShare storage owners with the means to easily index, search and retrieve digital content and from there has evolved to include remote production tools, private cloud enhancements, powerful automation capabilities and customisable logging for live production and sports.
Flow has enjoyed widespread adoption globally and today many of your favourite Tv shows and productions use it in their day-to-day operations.
The milestone release of Flow 2020 marks a decoupling from EditShare-only storage and now facilities can enjoy the full suite of media management tools on any storage platform. The same smart toolset that EditShare EFS storage users are familiar with and enjoy today, is now available to everyone.
New in Flow 2020
The latest Flow 2020 adds powerful artificial intelligence capabilities, enabling facilities to automate repetitive tasks, minimise human error and address badly indexed content.
Flow AI: The Power of Artificial Intelligence
Object and Scene recognition
Flow AI enables growing facilities to index and organize thousands of hours of video content at the touch of a button. With Flow AI's powerful Machine Learning capabilities, creative facilities can now realize the full value of their content. Automated scan and logging enables production teams to find that shot they've been looking for, by simply typing in keywords to Flow's AI search engine - clips are found instantly. Flow AI's state-of-the-art computer vision algorithms empower this leading edge technology with true visual intelligence.
Manual Processes that disappear: Faster, Quicker, Leaner
Originally, when digital files arrived into a facility, clients would sit there and tag hundreds of hours of video, before any footage reached the craft edit suite. This could be hours or days spent manual tagging and indexing content - a requirement essential to meeting a facility's best practises on managing media. As it's a manual process, we all know that people cut corners allowing some content slipping through the net and going untagged and unindexed. With Flow AI, content can be tagged in an instant - thanks to sophisticated AI technology, you need never lose content again.
Trigger indexing automatically
Flow AI's highly impressive keywording platform can instantly recognize over 5000 objects, emotions and actions which can be used to efficiently tag, organize and categorize large image and video collections. This instant indexing dramatically reduces the time and man hours spent indexing content. Remarkably, this can be done be achieved in minutes rather than days and all without an operator, saving a facility valuable time, effort and expense. It means users can quickly retrieve visual content by searching keywords. It means after a day's shoot, content can be captured, delivered to a facility, indexed , object recognised, proxy created, transcoded and delivered to craft editing suites, all without any technical operator involved. Time and Money well spent.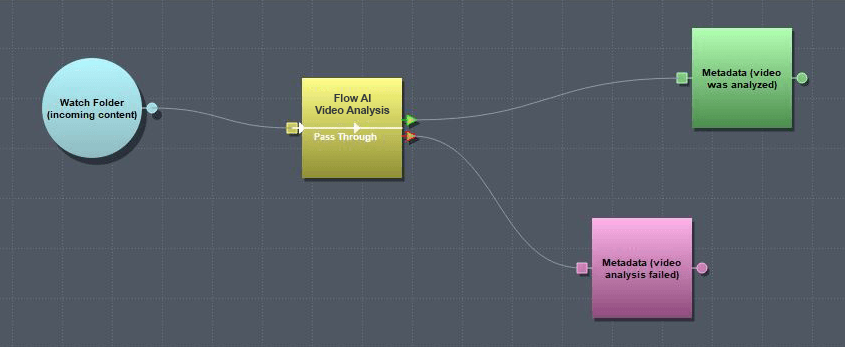 All part of the Flow ecosystem
Flow Production Asset Management platform enables facilities to take control of their media, providing a single unified view of all content regardless of where it is actually stored - online, nearline, offline (tape) or cloud.
For any creative agency or broadcaster, the ability to serve the right content in context to a viewer is vital. Flow AI's powerful auto-detect indexing takes things to another level, simplifying the management of large bodies of visual data, improving the quality of library metadata, making the treasure trove of your media work harder for you. Content, wherever it resides, is instantly searchable.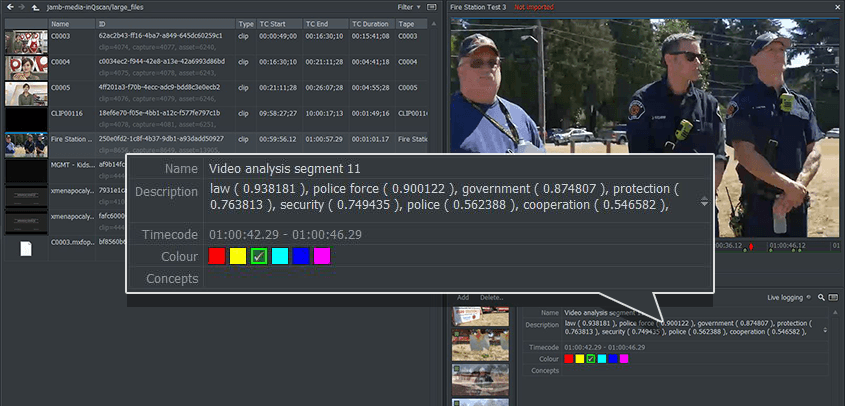 Flow's powerful Speech to Text AI feature, bringing a layer of intelligence to current and archived content.
Flow's powerful Speech to Text (STT) AI module enables facilities to find a keyword or phrase they've been searching for. The STT module enables Flow to index every word being said in an interview, during a commentary, at a game or in a studio. The automatic transcription produces an accurate record of all speech within the video content with up to 95% accuracy. The result is a library of rich metadata that can be readily searched for the discussion, the word or phrase you are looking for. Flow's STT can power through thousands of hours of media, enabling to index and archive content with powerful metadata, something that wasn't available until recently.